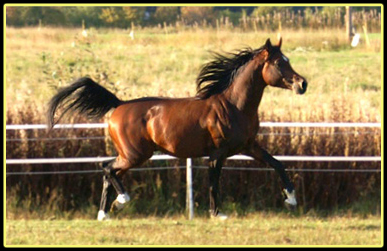 Bey Gali FA 16/03
Born: 2002-03-01 (Fs Bengali x Aja Bey Khateyna)
Height; 157cm
Breeder; Pamela och Daniel Moell
BEY GALI has an impressing background. His father, FS Bengali, became Scottsdale Champion Stallion 2002 and US National Champion Stallion 2003. BEY GALI`s grandfather is Kubinec, and his grandmother is Om El Sanadiva, both being World Champions.
The merits on BEY GALI`S mother`s side is as impressing. One of the absolut best producing motherlines in the world. The broodmare TW Forteyna is known as the greatest champion producing mare in US of all times. BEY GALI`s greatgrandmother Bey Teyna and her full sister Shahteyna,(by Bey Shah), are both US and Canadien National Champion mares. Bey Santeyna, the grandmother of BEY GALI is by Simeon Sanegor. He is Australian Champion Stallion, and was later exported to US, where he was National Top Ten.. He is also the grandson of the El Shaklan..
Bey Santeynas descendants are among others Aja Bey Khateyna (BEY GALI`s mother), Aja Sangali and Aja Sanagor. Aja Sangali became the Trippel Crown Winner in 2000 and was exported to the crown prince of Saudi Arabia. Aja Sanagor was appointed the Supreme National British Champion Stallion in 2005 and was sold to Kuwait in 2006. Both these stallions have FS Bengali as their father and consequently they are 3/4 brother´s of BEY GALI.. Moreover, BEY GALI`s grandfather is Ali Khalil, who has produced several Champion horses in England. Please look at the pedigree for full details of Bey Gali's stunning background!