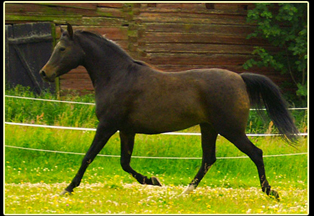 Serla FA 69/05
Born: 2004-04-29 (Gazal Al Shaqab x Serenada)
Height; 154 cm
Breeder; Blommeröds Arabstuteri
SERLA was born in 2004 when her father Gazal Al Shagab was leased from Qatar to Poland. Gazal Al Shagab has an impressing pedigree with several US National Champions. He himself became World Champion Senior Stallion in 2001, as well as US Reserv Champion Stallion and Scottsdale Reserv Champion Stallion in 2005. The mother of SERLA is the black Serenada. She is a fantastic producer of quality foals, for example Syrena (BIS Winner in Norway 2003 and later exported to Saudi Arabia) and Sedria (winner of Sverige Pokalen 2006 and Nordic Cup Winner 2007). SERLA`S grandfather is Aloes. He was leased to Sweden from Poland in 1985-1986 and sold to US in 1987.